Children's Dentistry
Over the years, the children we have treated have enjoyed their visits to our office. We enjoy our young patients and make every effort to make their visit stress free and fun.
More Details
Our goal is to help children develop dental habits that will ensure they maintain excellent dental health over their lifetime.
It is our experience that children introduced, as early as three years old, to regular dental checkups are more likely to maintain good dental health practices into their teenage and adult years. We've also noticed that children introduced at a young age have fewer fears.
From a health standpoint, early diagnosis of potential tooth problems may prevent the issue from ever developing. Over time, a child's consistent record of dental health and development will enable us to make proactive and informed decisions.
As a child develops to their adolescent years, changes to oral health can cause anxiety and apprehension. Regular visits to their dentist can go a long way to helping a child deal with these issues.
Tips for a child's First Visit:
Take your child for an online 'office tour'
Let your child know your positive dental experiences
Find materials (books, Internet..) to introduce your child to the dentist
During your first visit the dentist will:
Evaluate adverse habits like thumb sucking
Check to see if the child needs Fluoride
Examine your child's teeth, gums and mouth
Teach your child how to clean their teeth and gums
Discuss a schedule for regular dental checkups
Comprehensive Exams
The ADA defines a 'comprehensive oral exam' as "… an extensive evaluation and the recording of all extraoral, intraoral and soft tissues".
More Details
The ADA defines a 'periodic oral exam' as "… an exam that is done on established patients to determine any changes in dental and health status since a previous comprehensive or periodic evaluation".
The American Dental Association (ADA) recommends new patients have a comprehensive dental exam on their first visit and established patients undergo this exam every 3 years.
A comprehensive dental exam takes an entire appointment. Following is a general overview of what should be included in a comprehensive exam.
Areas to check:
Periodontal exam (gum and bones supporting the teeth)
Dental Exam (teeth)
Head and Neck Cancer Exam (soft tissues of mouth, throat and surrounding structures)
Occlusal Exam (Bite analysis)
TMJ Exam (jaw joints)
Radiographic Exam (x-rays and various scans)
Salivary Function Exam (quantity and quality of saliva)
Esthetic Exam (appearance of teeth and gums related to the face)
A comprehensive dental exam means no stone is left unturned and your dentist will know everything there is to know about your oral health. An exam is recommended before undergoing the following procedures:
esthetic changes to your smile
implants to replace lost teeth
updating old dental restorations
new dentures
been diagnosed with a medical problem or disease
Crowns and Bridges
A dental crown is a tooth-shaped cover placed over a tooth and secured with dental cement. Bridges are used as a replacement for a missing tooth by attaching permanently to adjoining teeth or dental implants.
More Details
Crowns
A dental crown is a tooth-shaped cover placed over a tooth and secured with dental cement. Crowns are generally used to improve the strength or appearance of the tooth. A dental impression usually takes place in order to fabricate the crown.
Most crowns are made from gold or porcelain, or a combination of porcelain and metal alloy:
Porcelain

 

crowns are aesthetically more appealing and very natural looking.
Gold

 

is usually used on the back teeth, is easier to use than porcelain and requires less tooth be drilled away.
Crowns are used to protect broken, worn down teeth. They are also used to cover dental implants, a dental bridge, or a tooth with a large filling.
Bridges
Bridges are used as a replacement for a missing tooth by attaching permanently to adjoining teeth or dental implants. They are an alternative to dental implants or dentures. Bridges are important because the teeth on either side of a missing tooth can shift and potentially lead to gum disease. Bridges are most often made with porcelain and gold.
Benefits of Dental Bridges:
Prevents moving and erosion
Last a long time
Restore ability to chew properly
Maintain the shape of the face
Restore smile
Aesthetically appealing
Dentures
When people lose one tooth or several permanent teeth due to an accident, illness, or aging, they may experience negative effects on their self-esteem or an inability to chew.
More Details
When patients experience tooth loss your dentist can give you back your beautiful smile by implementing a Partial or Full Denture treatment plan that suits your needs both financially and aesthetically.
Advantages of full and partial dentures include improved chewing ability, improved speech, improved aesthetic appearance, and improved oral health. The tooth portion of the denture consists of ceramic or ceramic-like material so they are strong and durable. The base of the denture is made of acrylic which fits comfortably over the gums.
Full and Partial Denture Treatment Process
Your dentist will take an impression of your teeth and jaw alignment and match your dentures to the color and shape of your teeth. Temporary dentures will be provided to patients transitioning from failing teeth to dentures.
For patients transitioning to a full denture, the denture is created after all remaining teeth have been removed and the gums have healed, a process that takes around 3 months.
For patients receiving partial dentures, replacement teeth are bonded to a gum-colored base which is attached to a metal framework – this framework is held in place by attaching to the natural teeth on either side of the empty space.
Flexible Partials
Flexible partial dentures are an alternative to traditional rigid metal-based dentures. They don't require rigid attachment to the remaining natural teeth, provide a better fit, and look more natural.
The appeal of flexible partials has to do with their better design, fit, and materials. They are also made more quickly than traditional dentures, and the nylon resin does not break.
Fillings
A dental filling is a restorative procedure that repairs teeth damaged by decay. In some cases enamel loss can cause a tooth to become sensitive and dental filling material is needed to relieve the tooth.
More Details
Tooth decay and cavities are quickly found during a routine dental appointment. Once detected, your dentist will remove the decayed material, clean the affected area, then fill the cavity with gold, porcelain, a composite resin, or an amalgam. These filling materials close off access to bacteria and prevent further decay.
On occasions when a filling is insufficient to repair tooth decay, a dental crown, implant, bridge, or root canal may be required. With regular check-ups, your dentist can detect any problems early and prevent a more costly procedure.
Preventing Dental Decay
In the past 65 years, many preventive measures have helped to reduce dental disease. Preventing dental disease is easy if you follow these steps:
Brush twice a day with a fluoride toothpaste
Floss or use an interdental cleaner once a day
Ask your dentist about dental sealants
Limit eating and drinking between meals. Choose nutritious, sugar-free snacks.
Visit your dentist regularly
Eat a balanced diet
Ask your dentist about supplemental fluoride treatment
Implant Dentures
Whether you are new to dentures or have had conventional dentures for years, you will notice your dentures losing their snug fit over time. This is due to the shrinkage of the jawbone which leads to many adverse effects (discomfort from your denture shifting, changes in your facial appearance).
More Details
Implant Retained Dentures
Whether you are new to dentures or have had conventional dentures for years, you will notice your dentures losing their snug fit over time. This is due to the shrinkage of the jawbone which leads to many adverse effects (discomfort from your denture shifting, changes in your facial appearance). Dental implants can be used to hold your denture securely in place leading to the following benefits:
Eat What You Want:
Traditional dentures allow you only 10% of the chewing efficiency that natural teeth offer. Dental implants can restore this lost chewing efficiency. With two dental implants securing your denture, you will regain 60% of the chewing power of natural teeth. With four dental implants, you can achieve 90% of the chewing power of natural teeth! Allow us to help you regain your ability to chew all of the foods you have been avoiding and enjoy life more fully!
Improved Comfort and Speech:
Traditional dentures tend to shift in your mouth causing mumbling, slurred speech, and clicking noises. Gum irritation and pain from exposed nerves may also be associated with traditional dentures. These problems are eliminated with dental implants that are securely anchored to the jawbone. An implant-supported denture looks feels, and functions more like your natural teeth enabling you to function and speak comfortably without any fear of your dentures shifting or falling out.
Long Term Results:
Dental implants preserve the bone by reducing forces applied to the bone during chewing. This will lead to fewer denture adjustments and remakes.
Smile with Confidence:
With dental implants, your teeth will be secure. You will no longer need to cover your mouth when you smile or laugh. Regain the confidence in the public that you had with your natural teeth!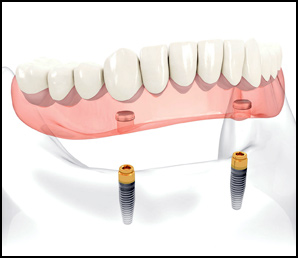 Implant Rerstorations
If you lost one or more teeth or have dentures and you're ready for a permanent solution, consider an implant restoration. Replacing missing teeth can improve a patient's self-esteem, the way they chew and how they talk.
More Details
Losing permanent teeth due to an accident, aging, or periodontal disease can be difficult, but you can get back the beautiful smile you've always wanted.
Dental Implant Restorations facts:
Durable – the implant fuses to the bone making implants the most durable tooth replacement option
Long-Lasting – Implants can last a lifetime if properly maintained
Healthy Oral Solution – Implants don't require reduction of bordering teeth
Natural Looking – Implants are designed to look like natural teeth
Improve Appearance and Restore Confidence
The Dental Implant Restoration Process:
The dental implant takes the place of the old root in the jaw bone
Over the next 2-6 months the implant fuses to the bone becoming an anchor for the artificial tooth.
The next step is to design the new replacement tooth. Once ready, the new tooth is attached to the implant – the patient will be able to chew and speak normally
When a patient loses several teeth, an implant-supported bridge can be created to replace the missing teeth.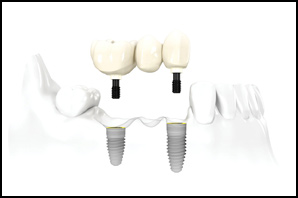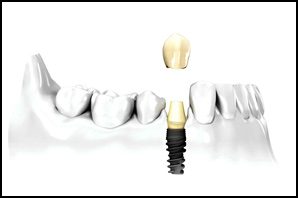 Intra Oral Cameras
An intra-oral camera is a tiny video camera that captures magnified images within the mouth and displays them on a computer monitor. Both dentist and patient can clearly see irregularities not visible by the naked eye.
More Details
Since its introduction in the early '90s the intra-oral camera has grown in popularity. Today, its use is widespread. Dentists that use this device have found it very helpful at diagnosing dental conditions such as tooth decay and cracked teeth and in educating the patient.
Invisalign
Invisalign invisibly straightens your teeth with a series of custom-molded aligners.
More Details
Forget everything you've heard about teeth straightening. Because now there's a breakthrough technology that lets you get the smile you always wanted without bands, brackets, or wires.
A clear alternative
By using a series of clear removable aligners, Invisalign straightens your teeth right before your eyes. Change them about every two weeks, and your teeth will move—little by little, week by week—until they have moved to the final position your orthodontist or dentist has prescribed. Comfortable to wear, our aligners are also removable so you can eat, drink, brush, and floss as usual.

Less treatment time
A typical Invisalign case takes about a year from start to finish. You'll see your doctor every month or two to see how you're progressing. Every few visits, you'll be given additional aligners to continue your treatment. Commonly, the number of aligners worn during treatment is between 18 and 30, but treatment time and the number of aligners will vary from case to case.
Invisible. And comfortable
Invisalign is a virtually invisible solution. So you won't draw undue attention to your mouth while in treatment. In fact, virtually no one will know you're wearing them unless you tell. Comfortable to wear, our aligners are also removable so you can eat, drink, brush, and floss as usual.
Is Invisalign for me?
Invisalign can be used to treat the vast majority of common problems for adults and teens. Whether your smile needs minor improvements or more extensive adjustments, Invisalign can certainly help. It's successful in treating overly crowded or widely spaced teeth. It can also relieve more complex issues, including overbites, underbites, and even crossbites. In fact, an Invisalign Certified Orthodontist or Dentist can use Invisalign clear aligners in all or part of just about any treatment plan.
Look your best during treatment
Invisalign is clear and practically invisible, so nothing gets in the way of your new smile. No wonder Invisalign is the choice of over half a million people.
* Unobtrusive in business meetings or social gatherings
* No metal wires or bands to irritate your mouth
* Most people won't notice you're wearing aligners
Mouth Guards
Athletic Guard – Anyone enjoying contact sports such as football, rugby or lacrosse needs to protect their teeth using a sports guard.
More Details
Athletic Guard – Anyone enjoying contact sports such as football, rugby or lacrosse needs to protect their teeth using a sports guard.
Custom-designed sports guards are more comfortable, less bulky, non-chafing, and provide better cushioning so they're more likely to be worn.
Night Guards protect from clenching and grinding while sleeping. A night guard designed by your dentist will be comfortable and do a great job of protecting your teeth.
Some people find a standard night guard uncomfortable in which case your dentist can design a slimmer, Invisalign night guard. These guards are almost invisible and can double as daytime protection from discomfort caused by clenching or grinding of the teeth.
Other situations where a night guard is beneficial.
Wearing a nightguard may also relieve jaw and joint pain for those patients experiencing TMJ or teeth grinding. And of course, a nightguard will protect expensive dental work such as crowns, implants, and bridges from the damage caused by teeth grinding. Simply put, your teeth will last a lifetime with the proper care and attention and your dentist is there to help you protect your health, teeth, and your cosmetic investment.
Nightguards can also protect orthodontic patients from shifting or drifting of the teeth.
Snore Guards
While sleeping the soft tissues at the back of the throat vibrate due to the jaw relaxing back during sleep. A snore guard repositions the lower jaw forward, opening the airway for more efficient air passage and reducing snoring for a more restful sleep.
Oral Cancer Screening
Your dentist may perform an oral exam during your routine dental visit to screen for oral cancer. Early detection means a greater chance for a cure. During an oral exam, your dentist looks for red or white patches or mouth sores. Invisalign invisibly straightens your teeth with a series of custom-molded aligners.
More Details
Many people have abnormal sores in their mouths that are usually noncancerous. An oral exam doesn't determine if a sore is cancerous – so if your dentist finds an unusual sore, a biopsy may be necessary.
Who should consider oral cancer screening?
Patients with a high risk of oral cancer may be more likely to benefit from oral cancer screening. Factors that can increase the risk of oral cancer include:
Tobacco use of any kind, including cigarettes, cigars, pipes, chewing tobacco, and snuff, among others
Heavy alcohol use
Previous oral cancer diagnosis
Your dentist will know if oral cancer screening is appropriate for you. Also ask about ways you can reduce your risk of oral cancer, such as quitting smoking and not drinking alcohol.
Orthodontics
Orthodontics is a branch of dentistry that treats malocclusions or 'bad bites'. A bad bite occurs when the lips and/or jaws don't line up the way they should, resulting in crooked teeth, a bite that doesn't work properly, and jaws that look unbalanced.
More Details
An orthodontist fixes a bad bite using braces and 'appliances'. This correction of the teeth and their supportive structures makes for a healthy, attractive smile.
What Causes Orthodontic Problems?
The majority of bad bites are inherited. Genetic problems include protrusion, crowding, spacing, extra or missing teeth and jaw growth problems.
Other bite problems develop over time due to thumb sucking, loss of primary or permanent teeth, an accident, etc.
Why Treatment Is So Important.
When your teeth are crooked and crowded they are difficult to clean which can lead to tooth decay, tooth loss and gum disease. A bad bite also leads to uneven wear of tooth surfaces, difficulty chewing and speaking, added stress on supporting bone and gum tissue and jaw joint problems.
On the emotional side, an unattractive smile can reduce confidence and self-esteem. Left untreated a child or adult may go thru life with a hand covering their mouth or never smiling.
If left untreated a bad bite may lead to more costly dental treatments in later years.
When should children get an orthodontic check-up?
The American Association of Orthodontists recommends children visit their orthodontist by age seven.  At this age orthodontists can recognize issues that are easier to correct when found early.
Can adults benefit from orthodontic treatment?
Braces work at almost any age. Roughly one in five orthodontic patients is over age eighteen. Treatment has become more appealing to adults because of solutions that are less visible and more comfortable.
Are There Choices for the Braces?
Patients should have choices in the appliances that will be used to straighten their teeth:
Metal Braces: These are the most durable braces suited for patients that want to show off their braces and/or the popular colored elastic ties.
Invisalign: This clear plastic appliance is invisible and replaced every two weeks. This solution is suited to patients not interested in wearing traditional braces but may not be suitable for complex orthodontic problems.
Ceramic Braces: These are clear braces designed for patients wanting an esthetic solution and excellent treatment quality.
What is my role in treatment?
Orthodontic treatment is a combined effort of dentist and patient. The patient needs to follow the orthodontist's instructions, attend all orthodontic appointments and maintain an excellent oral hygiene regimen – this includes brushing at home and keeping regular checkups with your general dentist.
How Long Does Treatment Take?
Orthodontic treatment generally takes one to three years plus retention – the retention phase of treatment involves the use of retainers and starts after braces are removed.
How much does treatment cost?
The cost of orthodontic treatment depends on the extent of the bad bite and the length of treatment. Your orthodontist will discuss the cost of treatment and financing options before treatment begins. Braces are far more affordable today than ever.
Porcelain Veneers
A veneer can change the color, shape, and size of a single tooth or a complete smile. They are used to whiten teeth, remove gaps, straighten teeth and correct teeth worn by grinding. Veneers look, feel, and function as natural teeth do.
More Details
Veneers are thin porcelain caps that bond to the outside of the tooth. The application takes just 2 visits and requires minimal removal of tooth structure. Veneers are the most natural-looking and durable cosmetic restoration in dental history. They are also the most compatible material to sit next to the gums. They are the best solution for correcting issues with the front teeth.
What to Expect
Porcelain Veneers will survive a lifetime, with the proper care. They are stronger and resist stains and chipping better than bonded fillings. Maintaining an at-home oral hygiene regimen, and making regular hygiene visits will ensure many years of service for your veneers. Veneers can be damaged by nail-biting or biting into candy or ice.
Teeth Whitening
The cosmetic dental treatment known as 'whitening', or bleaching, is used to whiten the tooth enamel. Pigmentation, tea, age, coffee, tobacco, red wine or medications such as tetracycline are just some of the causes of discolored or stained teeth.
More Details
The bleaching process uses a peroxide gel added to a mouth guard-like tray to ensure direct contact with the tooth surface.
What are my teeth whitening options?
Tooth whitening can be done in-office or at-home using a whitening kit. Our office offers both solutions.
Your dentist will recommend the appropriate solution for you depending on the types of discoloration and staining you are experiencing. For example, if you have darkly stained teeth caused by tetracycline, an in-office deep bleaching treatment may be recommended.
In-Office Whitening
For patients with tooth stains caused by medications like tetracycline, the best solution may be in-office deep bleaching.
Before the dentist applies the whitening gel, a protective cream is applied over the gums and other soft tissues. Once the gel is applied to the patient's teeth, a laser can be used to accelerate the whitening process.
In-office bleaching may require more than one visit to complete.
At-Home Whitening
Your dentist may recommend an at-home teeth whitening kit. Depending on the desired results, at-home whitening can take 10-15 treatments but is more cost-effective than in-office bleaching.
An at-home whitening kit uses a 10% carbamide peroxide solution and a custom-made mouthguard so the solution stays in contact with the enamel of your teeth.
Once the desired results have been achieved, you may want to do a 'touch-up' once or twice a year to maintain your beautiful smile!